JAIF and IRRI Collaborate on Capacity Building for ASEAN Rice Net in 4 SEA Countries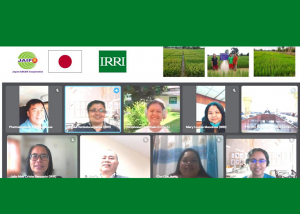 25 March 2022
-
Rice is the dominant staple in ASEAN, and its production is facing increasing challenges due to climate change. For every one degree Celsius increase in temperature, up to 10% of rice yield can be lost. Rice production in the ASEAN region is especially vulnerable to more frequent and intense climate effects, including typhoons, floods, droughts, salinity, and extreme temperatures. Recently, the Japan-ASEAN Integrated Fund (JAIF) Management Team (JMT), representatives from International Rice Research Institute (IRRI) and Southeast Asia countries namely Cambodia, Lao PDR, Myanmar, and Viet Nam gathered online to discuss ASEAN Rice Net best practices.
Read more here: https://bit.ly/3D8gezt
The Japan-ASEAN Integration Fund Capacity Development Program for ASEAN RiceNet is supported by the Government of Japan through Japan-ASEAN Integration Fund which is currently underway.