Japan, ASEAN Strengthen Indo-Pacific Security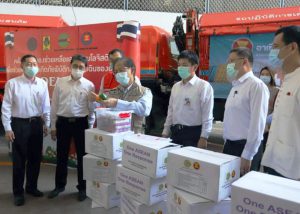 01 May 2021
-
The Government of Japan continues to work closely with the Association of Southeast Asian Nations (ASEAN) to bolster security across the Indo-Pacific in the areas of public health, disaster management and cybersecurity.
Tokyo has demonstrated high levels of participation and financial support with its involvement in new and ongoing initiatives, which were discussed at the 15th meeting of the ASEAN-Japan Joint Cooperation Committee, held virtually March 23, 2021, and co-chaired by the ambassadors to ASEAN from Japan and Viet Nam.
Despite the pandemic, the ASEAN-Japan cooperation program implemented or adopted 57 projects that received about U.S. $40 million in support from Japan through its Japan-ASEAN Integration Fund (JAIF), ASEAN delegates said.
Japan's interest in fortifying the region's preparedness and capacity to respond to health crises such as future pandemics is coming to fruition through its investment in the ASEAN Centre for Public Health Emergencies and Emerging Diseases (ACPHEED), which was a central topic at the meeting, the Vietnam News Agency (VNA) reported. Experts from Japan are expected to help ASEAN design the ACPHEED center and train its personnel.