Japan Launches New Version of Indo-Pacific Strategy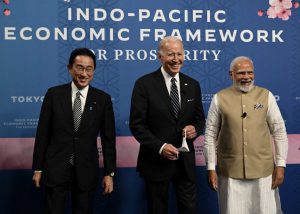 27 March 2023
-
Japan has proposed a new Free and Open Indo-Pacific or FOIP strategy, with more cooperation and funding for the Indo-Pacific region, according to a highly placed and informed source.
The new FOIP improves on the earlier version introduced in 2016 and has broader scope for cooperation with the countries in the Indo-Pacific region as well as emerging countries in all parts of the world.
According to the new FOIP, Japan is committed to spending a total of US$100 million in Southeast Asia to improve so-called multi-layered connectivity, one of the four pillars of the strategy. The money will go into the Japan-ASEAN Integration Fund (JAIF). The new FOIP will also see knowledge, human and digital connectivity.
Japan has already applied for comprehensive strategic partnership of ASEAN, to commemorate the 50th anniversary of Japan-ASEAN diplomatic relationships. The ASEAN leaders will make the decision in September, when they meet in Jakarta at the ASEAN Secretariat.