Japanese Ambassador to ASEAN Speaks of Vietnam's Excellent Role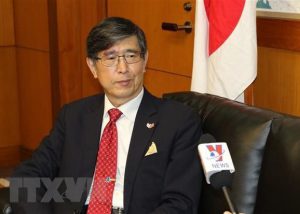 17 November 2020
-
H.E. Ambassador Chiba Akira, Ambassador of Japan to ASEAN has spoken highly of the role of Viet Nam as ASEAN Chair in 2020 with the successful organization of the 37th ASEAN Summit and Related Meetings despite of COVID-19. He expressed his appreciation to the Vietnamese government for the organisation of the event, while saying that he believed all participants were satisfied. Sharing the message Japan reiterated throughout the summits, Ambassador Chiba said the most important thing is Japan's support to the ASEAN Outlook on Indo-Pacific (AOIP). The AOIP has many fundamental principles that are shared with Japan's own policy.
Ambassador Chiba said Japan is ready to help ASEAN countries in many aspects such as infrastructure building, amidst the COVID-19 Pandemic that caused economic problems for ASEAN countries. Japan is also ready to fund projects that relate to vulnerable parts of each community, and plans to continue promoting cooperation programmes in human resources development, he added. On Japan-ASEAN cooperation outcomes in 2020, the biggest project that Japan has together with ASEAN is the ASEAN Centre for Public Health Emergencies and Emerging Diseases (AC-PHEED), launched at the Japan-ASEAN Summit.
The Feasibility Study on the Establishment of "ASEAN Centre for Public Health Emergencies and Emerging Diseases" is currently on-going and supported by the Government of Japan through Japan-ASEAN Integration Fund (JAIF).