JENESYS Japan-Cambodia Online School Exchange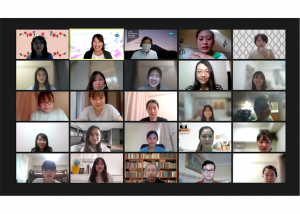 01 July 2021
-
JENESYS Japan-Cambodia Online School Exchange was held on 30 June 2021. Fukuoka Women's University students introduced Japanese culture, art, food, anime, slang, etc. to the university students in Cambodia. The students from both countries interacted with each other in English.
With great presentation from Fukuoka Women's university and participation from Cambodian university students, it is expected that this exchange will deepen mutual understanding among peoples of Japan and Cambodia.
This event is part of the  Japan's Friendship Ties Programs JENESYS2020 "Inbound, Outbound and Follow Up Project" supported by the Government of Japan through Japan-ASEAN Integration Fund (JAIF).