JENESYS Online Webinar for Timor-Leste on Disaster Risk Reduction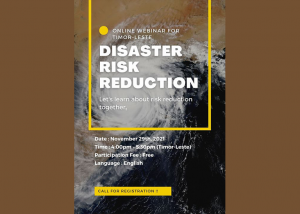 25 October 2021
-
The JENESYS online program will be implemented to promote mutual trust and understanding among peoples of Japan and Timor-Leste. The program theme is disaster risk reduction to equip participants to know the risk reduction activities in Japan and Timor-Leste and understand what they can do. The program will be conducted on 29 November 2021 at 4.00-5.00 PM (Timor-Leste time).
For those who are interested can register through this link by 15 November 2021: https://jice-inex.smktg.jp/public/seminar/view/1222
This program is part of the Japan's Friendship Ties Programs JENESYS2020 "Inbound, Outbound and Follow Up Project" supported by the Government of Japan through Japan-ASEAN Integration Fund (JAIF).