JENESYS Online Webinar "Free and Open Indo-Pacific (FOIP)"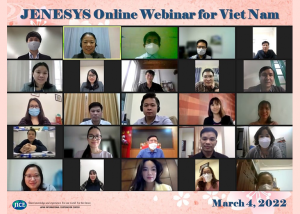 04 March 2022
-
The JENESYS online program for participants of Viet Nam was held on 4 March 2022. Mr. YOSHINAGA Shohei from Ministry of Economy, Trade and Industry, Japan gave an informative lecture on Initiatives in the energy, digital, and infrastructure fields in the Indo-Pacific Region.
It is hoped this program has helped to deepen the participants' understanding of the importance of Free and Open Indo-Pacific (FOIP) as well as ASEAN Outlook on the Indo-Pacific (AOIP) after the participants watched a lecture video on the AOIP by Ministry of Foreign Affairs, Japan.
This program is part of the Japan's Friendship Ties Programs JENESYS2021 "Inbound, Outbound and Follow Up Project" supported by the Government of Japan through Japan-ASEAN Integration Fund (JAIF).