JENESYS2019 Japan Exchange Program for Fostering ASEAN Identity among Students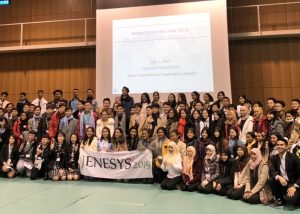 10 December 2019
-
From 2 to 9 December, more than a hundred students from ASEAN countries and Timor-Leste participating in a Movie and Art Exchange Programme in Kobe and Minami Awaji.
Participants were introduced to ASEAN's ongoing effort in the areas of youth development, and culture and arts, which are outlined in the ASEAN Work Plan on Youth 2016-2020 and the ASEAN Strategic Plan for Culture and Arts 2016-2025. The 13th Asian International Children's Film Festival was organised in conjunction with the JENESYS 2019 programme on 4 December and held at the Minami Awaji island.
The activity is part of the Japan-East Asia Network of Exchange for Students and Youth (JENESYS) 2019 Programme supported by the Government of Japan through the Japan-ASEAN Integration Fund (JAIF). The JENESYS 2019 programme included visits to the Japan International Cooperation Agency (JICA) Kansai Office, Kitano Ijinkan-Gai, junior high schools and the Minami Awaji Central Public Hall. Since its inception in 2007, JENESYS has contributed to enhancing people-to-people interaction, cultural awareness and mutual understanding among the youth of ASEAN and Japan.