Meeting between Foreign Minister Motegi and ASEAN Secretary General Lim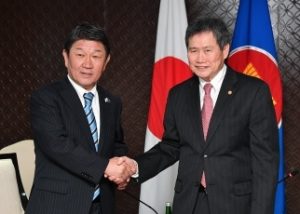 10 January 2020
-
Foreign Minister Toshimitsu Motegi, who is visiting Jakarta, Indonesia on January 10, met with the Secretary General of ASEAN, HE Dato Lim Jock Hoi at the ASEAN Secretariat. The outline is as follows.
Foreign Minister Motegi is delighted to reunite with Secretary General Lim since September 2019. He will make a speech today on Japan's policy on ASEAN. Japan fully supports the ASEAN Outlook on the Environment (AOIP), promotes synergy between Japan's "Free and Open Indo-Pacific (FOIP)" and AOIP, and cooperates to realize a free and open Indo-Pacific.
In response, Secretary-General Lim welcomed Minister Motegi's visit to the ASEAN Secretariat and stated that he hoped that Japan-ASEAN relations would be further strengthened under the direction indicated in the speech of Minister Motegi. He expressed his appreciation for Japan's support for AOIP and expressed hope that Japan and ASEAN would cooperate closely. He also expressed his gratitude to Japan-ASEAN Integration Fund (JAIF) and other Japanese cooperation so far.
Both sides also exchanged views on the situation in Rakhine State of Myanmar. The two sides also agreed that the signing of East Asia Regional Comprehensive Economic Partnership (RCEP) this year among 16 countries, including India, is important.