Meeting between Foreign Minister of Japan and Secretary-General of ASEAN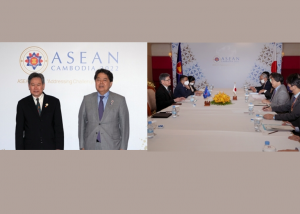 05 August 2022
-
On 5 August 2022, Mr. HAYASHI Yoshimasa, Minister of Foreign Affairs of Japan, held a meeting with H.E. Dato Lim Jock Hoi, Secretary-General of ASEAN, during his visit to the Kingdom of Cambodia to attend the ASEAN-related Foreign Ministers' Meeting.
On the Review of ASEAN-Japan Cooperation and Future Directions, Minister Hayashi stated ASEAN-Japan relations had made significant progress through comprehensive cooperation in line with the four Partnerships, namely: Partner for Peace and Stability, Partner for Prosperity, Partner for Quality of Life, and Heart to Heart Partner since then-Prime Minister Abe and ASEAN Leaders adopted the Vision Statement at the ASEAN-Japan Commemorative Summit for the 40th Year of Friendship and Cooperation in 2013.
Minister Hayashi mentioned that Japan had been consistently supporting ASEAN centrality and unity, and had been the first to announce its support for ASEAN Outlook on the Indo-Pacific (AOIP). He explained that Japan had been implementing concrete cooperation projects towards the realisation of both Free and Open Indo-Pacific (FOIP) and AOIP. In addition, he also reiterated Japan's intention to hold a Commemorative Summit that marks the 50th Year of ASEAN-Japan relations and to jointly announce a vision for future ASEAN-Japan Friendship and Cooperation on that historic occasion.
In response, Secretary-General Lim expressed that he highly valued Japan's cooperation in the field of Politics and Security, Economy, Social and Cultural issues, as well as Japan's contributions to ASEAN's community building efforts. He also expressed his appreciation for Japan's assistance to the ASEAN Centre for Public Health Emergencies and Emerging Diseases (ACPHEED), economic recovery from COVID-19 pandemic, the Japan-ASEAN Integration Fund (JAIF) and technical cooperation. He expressed his hope that a vision which would be announced at the ASEAN-Japan Commemorative Summit for the 50th Year of Friendship and Cooperation, would further strengthen ASEAN-Japan cooperation.