Forging History: Metals in the Crucible of ASEAN's Transformation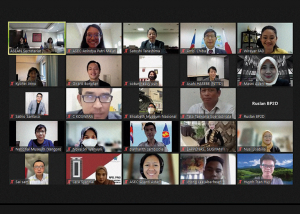 31 May 2022
-
ASEAN launched the inaugural e-exhibition of the ASEAN Cultural Heritage Digital Archive (ACHDA) project on 26 November 2021. The virtual launch cum webinar has the theme "Forging History: Metals in the Crucible of ASEAN's Transformation." The Government of Japan supports the ACHDA project and e-exhibition through the Japan-ASEAN Integration Fund.
At the webinar, a panel of seven experts discussed "Reimagining E-Exhibitions During COVID-19." The experts, representing cultural institutions from Indonesia, Malaysia, Thailand, and Japan, shared best practices in transitioning exhibitions from the physical to the digital sphere given the ongoing pandemic. Japanese telecommunications company NTT DATA, which handled the digitisation of artefacts for the ACHDA project, described the prototype 3D virtual space showcasing select cultural heritage items from the ACHDA based on NTT DATA's service named "DOOR." The panel session sparked discussions on the challenges faced by museums, galleries, and libraries in engaging the public during COVID-19, public reception of the online exhibits, and how smaller cultural institutions would be able to digitise their collections using available resources.
The ACHDA e-exhibition comes at a timely moment, showcasing how cultural institutions can organise cultural projects and activities amidst the COVID-19 pandemic. Accelerated digital adoption and consumption, under the ongoing Fourth Industrial Revolution, will only make technology more integral to people's cultural life. The e-exhibition and webinar hope to propel cultural institutions to reflect on their current capacities and gradually move towards digital adoption in order to enhance their services, widen their reach, and remain relevant in the future.
Read the full article in The ASEAN Issue 21 2022 (page 66-67).