Meeting between Foreign Minister of Japan and the next Secretary-General of ASEAN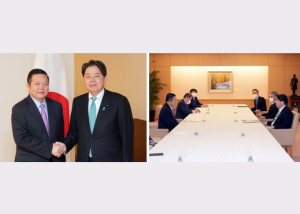 06 December 2022
-
On 6 December 2022, H.E. HAYASHI Yoshimasa, Minister for Foreign Affairs of Japan, held a meeting with H.E. Dr. Kao Kim Hourn, Minister attached to the Prime Minister of the Kingdom of Cambodia and the next Secretary-General of ASEAN.
In the summary overview of the meeting, Minister Hayashi expressed his respect for Cambodia's efforts in successfully hosting the ASEAN-related Summits in November in person for the first time in three years and expressed his expectation for the leadership of Minister Kao Kim Hourn, who would assume the office of the Secretary-General of ASEAN in 2023.
Regarding the cooperation between ASEAN and Japan, Minister Hayashi stated that Japan supports the ASEAN Comprehensive Recovery Framework and would continue to contribute to ASEAN countries' economic recovery from the COVID-19 pandemic. He also stated that Japan would continue to support the ASEAN Centre for Public Health Emergencies and Emerging Diseases (ACPHEED) as the flagship project of ASEAN-Japan cooperation in order to strengthen prevention, preparedness, and response to future public health crises. The ACPHEED is funded through the Japan-ASEAN Integration Fund.
In relation to the upcoming 50th Year of ASEAN-Japan Friendship and Cooperation, Minister Hayashi reiterated Japan's intention to develop a new vision for the friendship and cooperative relationship between ASEAN and Japan in preparation for the ASEAN-Japan Commemorative Summit in December next year, and Minister Kao Kim Hourn stated in response that he places importance on the 50th Year of ASEAN-Japan Friendship and Cooperation next year. The two Ministers concurred that they would work closely with each other in order to further strengthen ASEAN-Japan relations on the occasion of the 50th Year.