The 16th East Asia Summit (EAS)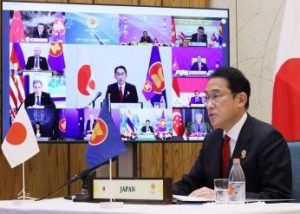 27 October 2021
-
The 16th East Asia Summit (EAS) was held via video conference on 27 October. The Summit was chaired by His Majesty Sultan Haji Hassanal Bolkiah, Sultan and Yang Di-Pertuan of Brunei Darussalam and attended by H.E. KISHIDA Fumio, Prime Minister of Japan. In his remarks, Prime Minister Kishida said that he will work with EAS Leaders to vigorously advance a "free and open Indo-Pacific." He also stated that he was encouraged that ASEAN had exercised its centrality and unity and made its own guidance clear by issuing the "ASEAN Outlook on the Indo-Pacific (AOIP)" at the recent time when the rule-based order is being shaken and regional instability has become apparent.
Prime Minister Kishida expressed his intention to continue to enhance cooperation toward the realization of fair and equitable access to effective, safe and high-quality vaccines and the establishment of a robust and inclusive healthcare system, through assistance such as the provision of vaccines to ASEAN countries, "Last One Mile Support," and support for the establishment of the ASEAN Centre for Public Health Emergencies and Emerging Diseases (ACPHEED). Prime Minister Kishida stated that EAS is a premier forum where the leaders of each country frankly discuss regional political security issues, and that Japan will continue to advance cooperation through the EAS framework.
The Feasibility Study of ACPHEED which was implemented in 2020, and the Detailed Design and Preparation Support for the ACPHEED which is currently underway are supported through Japan-ASEAN Integration Fund (JAIF).
Related article is also available on Mission of Japan to ASEAN's Facebook page: https://www.facebook.com/japanmissiontoasean/posts/6618022521549151 while the Chairman's Statement can be accessed here: https://asean.org/wp-content/uploads/2021/10/96.-FINAL-Chairmans-Statement-of-the-16th-East-Asia-Summit-on-27-October-2021.pdf