New Collection from the National Museum of Cambodia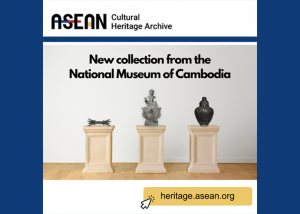 06 September 2021
-
The ASEAN Cultural Heritage Digital Archive (ACHDA) welcomes a new collection of 20 cultural heritage treasures courtesy of the National Museum of Cambodia!
Dating from the 6th through 13th century, these precious artefacts are largely related to the two main religions that were and continue to be practiced in Cambodian society until today – Hinduism and Buddhism.
See the collection from Cambodia here: https://heritage.asean.org/collection/NMC_NMC/mosaic
The ACHDA project is supported by the Government of Japan through Japan-ASEAN Integration Fund (JAIF).