ASEAN-Japan Sports Figures and Young Leaders Convene for Gender Equality in Sports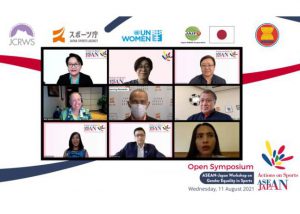 13 August 2021
-
In the spirit of the Tokyo 2020 Olympic and Paralympic Games, the Japanese Center for Research on Women in Sport (JCRWS) of Juntendo University co-organised the Open Symposium on Gender Equality in Sports with the Japan Sports Agency (JSA) and ASEAN Secretariat, and support from the UN Women. The Symposium is part of the four-day ASEAN-Japan Workshop on Gender Equality in Sports held from 10 to 13 August. Over 70 participants consisting of government officials, representatives of the Women in Sports Commissions of the National Olympic Committees, young female sports leaders and youth leaders of the UNESCO's Youth Task Force on Sports for SDGs, gathered online to develop a feasible action plan to empower women in and through sports.
The four-day workshop employs a two-track approach, one tailored for policy makers and another one for young female leaders. Participants jointly formulated a set of policy recommendations to promote the participation of women and girls in sports through ASEAN cooperation and in the respective countries.
ASEAN-Japan Actions on Sports is a project under the ASEAN Plus Japan Senior Officials Meeting on Sports (SOMS+Japan) funded by the Japanese government through the Japan-ASEAN Integration Fund (JAIF). A public awareness campaign on the participation of ASEAN women and girls in sports will take place in December 2021, involving ten prominent female sports ambassadors across the region.
See also related article from ASEAN's Facebook page: https://www.facebook.com/aseansecretariat/photos/a.10150347651743854/10159783596868854?_rdc=1&_rdr