New Graduates of the ACE Programme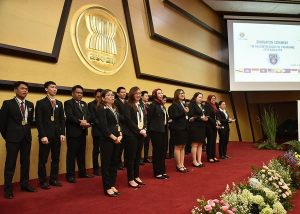 14 December 2018
-
As a region that is prone to natural disasters, ASEAN continues to build itsresilience and capacity to manage humanitarian emergencies. Today, 17 disaster management professionals graduated from an intensive four-month course organized by the ASEAN Coordinating Centre for Humanitarian Assistance on disaster management (the AHA Centre).
The AHA Centre Executive (ACE) Programme focused on humanitarian context, leadership, logistics and data management, among others. Thanks to the support of Japan-ASEAN Integration Fund and other partners.
Deputy Secretary General of ASEAN for Socio-cultural Community Kung Phoak remarked that ASEAN's future can be more secure with the help of these future humanitarian leaders, responders, and managers.