Newsletter from the Ambassador of Japan to ASEAN No. 6: How to make the most of ASEAN-led mechanisms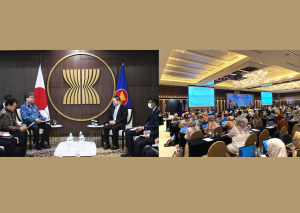 31 May 2023
-
A newsletter from the Ambassador of Japan to ASEAN, H.E. KIYA Masahiko was published on 31 May 2023. In this edition, Ambassador introduces a series of events and consider, together with the readers, on how to make the most of the ASEAN-led mechanisms.
Some of events attended by Ambassador Kiya in May was a meeting between Chairperson Mr. HAGIUDA Koichi of Policy Research Council of the Liberal Democratic Party (LDP) and the ASEAN Secretary-General H.E. Dr Kao Kim Hourn where Mr. Hagiuda explained the announcement by Prime Minister KISHIDA in March of an additional USD 100 million contribution to the Japan ASEAN Integration Fund (JAIF) to mainstream the ASEAN Outlook on the Indo-Pacific (AOIP). They exchanged views to further strengthen ASEAN-Japan relations, including the promotion of economic ties and people-to-people exchanges.
Ambassador also attended the ASEAN-Japan Risk Management Plan (RMP) Symposium 2023 held on 24 May in Jakarta. This is a project co-organised by the Indonesian FDA (BPOM), the Faculty of Pharmacy University of Indonesia (FFUI) and the Pharmaceutical and Medical Devices Agency (PMDA) Japan to promote pharmaceutical regulatory as part of ASEAN Connectivity, through the Japan-ASEAN Integration Fund (JAIF). Ambassador recognized the immense benefit of this initiative to both Japan and ASEAN, as it utilises Japanese knowledge to accelerate the approval and use of medicines within ASEAN.
Read the full newsletter here.