NYC monitors implementation of projects initiated by JENESYS beneficiaries in Nueva Ecija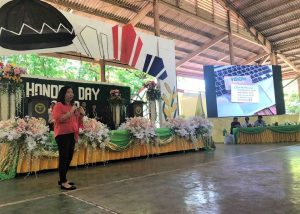 12 April 2019
-
The personnel of the International Programs Unit of the National Youth Commission (NYC) visited the Central Luzon State University in Muñoz, Nueva Ecija recently to take part in the projects initiated by the beneficiaries of the Japan East Asia Network of Exchange for Students and Youth (JENESYS 2.0 Social Community Course) and JENESYS2018 Japan ASEAN Students' Conference.
With the activities initiated by the youth beneficiaries of the international exchange programs facilitated by the NYC, the Commission hopes that the other beneficiaries will be able to replicate similar community or school based activities as a manifestation of sharing with fellow Filipinos what they have learned from their visits to foreign countries like Japan.
The JENESYS 2018 is an exchange programme for the youths of Japan and ASEAN.