Pilot Course on ASEAN Humanitarian Civil-Military Coordination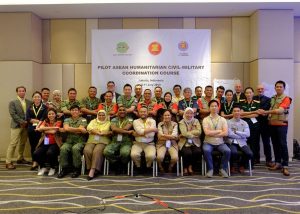 8 July 2019
-
The long-awaited Pilot Course on ASEAN Humanitarian Civil-Military Coordination began today in Jakarta. The Executive Director of the AHA Centre, Ms. Adelina Kamal, highlighted the important role of military as an integral part of ASEAN's response, as military capabilities will scale up and speed up #1ASEAN1Response. She also emphasized that building relations and trust is the ASEAN Way in disaster response:
"Experience tells us that a familiar face goes a long way during disaster response. ASEAN, AHA Centre, ASEAN-ERAT may have the legally binding agreement and a role to facilitate civil-military coordination, but based on our experience, access and opportunity to support affected countries and work together on the ground would often start with good relationship and trust".
The pilot course will run until 11 July 2019. It is part of the advanced courses of ASEAN Emergency Response and Assessment Team (ERAT) managed by the AHA Centre and supported by the Government of Japan through the Japan-ASEAN Integration Fund (JAIF).
Other What's New