President Ferdinand Marcos Thanks Japan for Supporting the ASEAN Mentorship for Entrepreneurs Network (AMEN)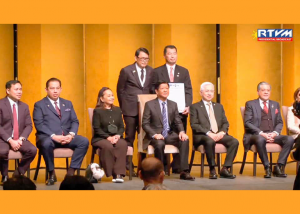 10 February 2023
-
President Ferdinand Marcos Jr. thanks through Go Negosyo founder Joey Concepcion and Department of Trade and Industry (DTI) Secretary Alfredo Pascual. Concepcion and Pascual joined the President at this morning's ceremonies held in Tokyo to thank Japan for funding the ASEAN Mentorship for Entrepreneurs Network (AMEN) through the Japan-ASEAN Integration Fund (JAIF).
AMEN is based wholly on Go Negosyo and DTI's Kapatid Mentor ME (KMME), which has been mentoring Filipino entrepreneurs since 2016. Joining them are Ministry of Foreign Affairs of Japan Director-General of Southeast and Southwest Asian Affairs Yutaka Arima, who received the certificate and former President Gloria Macapagal Arroyo.
AMEN is the ASEAN-wide implementation of KMME, which has produced more than 12,000 Filipino entrepreneur-graduates since its launch.
Other Whats New