President Jokowi and PM Suga Agree to Cooperate in Pandemic Management and Economy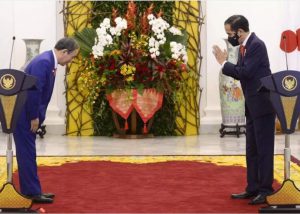 20 October 2020
-
The visit of Japanese Prime Minister Yoshihide Suga and Mme. Mariko Suga to Indonesia on Tuesday, October 20, 2020, was part of PM Suga's first series of visits after being appointed prime minister on September 16, 2020. President Joko Widodo (Jokowi) said that this visit showed the importance of Indonesia and the Southeast Asian region for Japan.
In the bilateral meeting, the two leaders discussed a number of issues, including pandemic management cooperation. President Jokowi said Indonesia and Japan also share a common vision in advancing multilateralism, including equal access to affordable vaccines. The Head of State said that Indonesia appreciated Japan's commitment to contribute to the establishment of the ASEAN Covid-19 Response Fund.
"I also invite Japan to strengthen health governance in the region to deal with future pandemics, including the establishment of the ASEAN Center for Public Health Emergency and Emerging Diseases," he added.
The Feasibility Study on the Establishment of "ASEAN Centre for Public Health Emergencies and Emerging Diseases" is currently on-going and supported by the Government of Japan through Japan-ASEAN Integration Fund (JAIF).