Regional Cooperation, Multi-Stakeholder Partnerships Key to ASEAN's Digital Health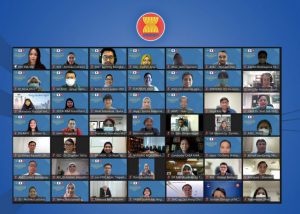 14 June 2022
-
The webinar on "Transforming ASEAN's Digital Health Landscape to Improve Regional Health" called for regional cooperation and multi-stakeholder partnerships to invest and collaborate on digital health transformation to support ASEAN's post-COVID-19 recovery.
The event is the first of a series of ASEAN Public Health Emergencies webinars under the ASEAN Socio-Cultural Community (ASCC) Research and Development Platform Programme supported by the Japanese government through the Japan-ASEAN Integration Fund.
 Representatives from the ASEAN sectoral bodies on health, social welfare, rural development, and poverty eradication, as well as ASEAN's working group on livestock and health service, the World Health Organization (South East Asia Regional Office and Western Pacific Regional Office), the World Organization for Animal Health, the South East Asia One Health University Network, the Asia-Europe Foundation, and the Japan-ASEAN Integration Fund (JAIF) Management Team (JMT) attended the event.