Singapore, Japan to Develop Monitoring and Reporting Guidelines for Carbon Emissions in ASEAN Industries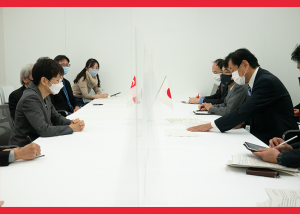 13 November 2021
-
Japan and Singapore have launched the second phase of a project that aims to develop and roll out monitor and report (M&R) systems for greenhouse gas emissions in industry facilities across the ASEAN Member States. Singapore's National Environment Agency will oversee the project in collaboration with the Japan Overseas Environmental Cooperation Centre (OECC), with funding support from the Government of Japan through Japan-ASEAN Integration Fund (JAIF).
The collaboration is part of an initiative known as the Partnership to Strengthen Transparency for Co-Innovation (PaSTI) by the Japan's Environment Ministry. The initiative aims to connect businesses with local governments to come up with incentives and tools to work towards reducing carbon emissions in the long term.
Singapore's Minister for Sustainability and the Environment Grace Fu launched Phase Two of the project on 12 November 20221 alongside Japan's Environment Minister Yamaguchi Tsuyoshi at the Japan Pavilion at the COP26 Climate Change Conference in Glasgow, the UK.
See also news article from The Strait Times.