The 13th ASEAN-ERAT Induction Course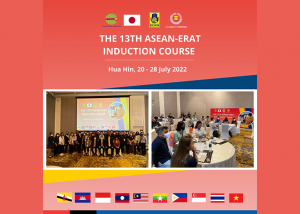 23 July 2022
-
The ASEAN-ERAT Induction Course is finally back!
Thirty-two participants of the 13th ASEAN-ERAT Induction Course joined the Opening Ceremony held on 21 July 2022 in Hua Hin, Thailand.
By the end of the course, these participants will be ready to be deployed to support affected ASEAN Member States in the immediate aftermath of a disaster.
The course is supported by the Government of Japan through the Japan-ASEAN Integration (JAIF) under the project Strengthening ASEAN's Collective Response Capacity through the Enhancement of the Capacity Building of the Regional ASEAN Emergency Response and Assessment Team (ASEAN-ERAT) (2020 – 2022) which is currently underway.