The 19th Training of AJJCCBC on Incident Response and Digital Forensics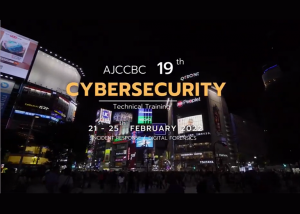 07 March 2022
-
On Friday, 25 February 2022, ASEAN-Japan Cybersecurity Capacity Building Centre (AJCCBC) has completed conducting another training, which is Training 19, revolving around Incident Response and Digital Forensics after the training's inception on 21 February 2022.
The training was productively and ecstatically participated by 25 personnel from ASEAN Member States' government and critical information infrastructure (CII) sectors. They were provided with the knowledge on how to cope with rapidly evolving cyberthreats in a more effective fashion.
It is the Centre's privilege for having yet another chance to be part of building a robust fundamental for the future of cybersecurity landscape. AJCCBC expressed their gratitude to Japan, ASEAN, the participants, and the instructor team for making the trainings possible and successful.
This activity is part of Japan-ASEAN Integration Fund (JAIF) project namely ASEAN-Japan Cybersecurity Capacity Building Centre (Step 2-2) which is currently underway
Other Whats New