AJCCBC 20th Online Cybersecurity Technical Training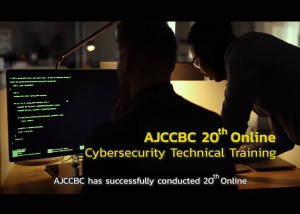 27 May 2022
-
To enhance the capacity of cybersecurity personnel of ASEAN Member States, on 9 – 13 May 2022, ASEAN-Japan Cybersecurity Capacity Building Centre (AJCCBC) under Electronic Transactions Development Agency (ETDA), Ministry of Digital Economy and Society has successfully conducted the 20th Online AJCCBC Cybersecurity Technical Training, focusing on two courses, including CYDER and Malware Analysis.
CYDER is an incident response training that focuses on the ability to correspond against the cyberattacks, prioritizing the cyber invasion from the impact that occurs on the organization appropriately from the incident handling based on an actual cyberattack.
Malware Analysis is the training that revolves around the process of understanding the behaviour and purpose of malware for cyber risk assessment and to prevent future attacks on businesses and organisations.
Despite the absence of in-person training due to the policy applied to limit COVID-19 exposure, the 25 participants from the ASEAN Member States have harvested fruitful knowledge in order to protect their respective organizations and countries. The Centre still looks forward to contributing more to the region.
The ASEAN-Japan Cybersecurity Capacity Building Centre (AJCCBC) was funded by Japan ASEAN Integration Fund with the aim to develop a cybersecurity workforce of 700+ over 4 years to enhance the capacity of cybersecurity experts and specialists in the ASEAN Member States by providing trainings and other activities to participants from the region.