The 24th ASEAN Plus Three (Japan-China-Republic of Korea) Summit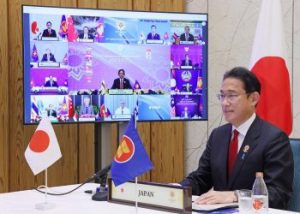 27 October 2021
-
H.E. KISHIDA Fumio, Prime Minister of Japan, attended the 24th ASEAN Plus Three (Japan-China-Republic of Korea) Summit chaired by His Majesty Sultan Haji Hassanal Bolkiah of Brunei Darussalam which was held via video conference. The Prime Minister stated that Japan will continue to provide full support for the ASEAN Centre for Public Health Emergencies and Emerging Diseases (ACPHEED) through developing the detailed design of the Centre, as well as providing training and dispatching experts through JICA. He also stated that Japan was offering assistance worth more than $200 million USD by providing medical supplies and equipment, and developing cold chains, while also mentioning Japan's provision of more than 16 million doses of vaccines to the ASEAN region.
In response, the ASEAN side expressed their gratitude for the support from Japan, China, and the Republic of Korea for ASEAN's response to COVID-19 including the provision of medical supplies and vaccines, and Japan's support for the establishment of the ACPHEED.
The Feasibility Study of ACPHEED which was implemented in 2020, and the Detailed Design and Preparation Support for the ACPHEED which is currently underway are supported through Japan-ASEAN Integration Fund (JAIF).
Related article is also available on Mission of Japan to ASEAN's Facebook page: https://www.facebook.com/japanmissiontoasean/posts/6617953494889387 while the Chairman's Statement can be accessed here: https://www.mofa.go.jp/files/100252935.pdf