The AIM Padayon Donation Matching App Bagged Two Major Awards in the AHA Centre HELIX iPitch Competition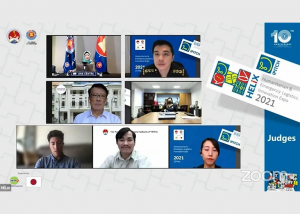 26 May 2021
-
A project in the making, EMDRCM 2021 students Cynthia Diaz, Carlos Centeno, Jr., and Ludwig Federigan submitted a mobile application project called "Padayon Donation Matching App" and joined in the AHA Centre HELIX iPitch Competition, which is part of the organization's Humanitarian and Emergency Logistics Innovation Expo that aims to capture the latest advancements in humanitarian logistics and supply chain management. This competition highlighted the top 8 innovations from all around the ASEAN region. With a stroke of luck, hard work, and perseverance, the team was able to become part of the Top 8 finalists in the competition which was held virtually from Jakarta, Indonesia, last May 25, 2021.
In the competition, the finalists presented their ideas via the Zoom platform to the 7 judges coming from the members of the ASEAN community. The judges evaluated the projects presented using the five main criteria of the competition which are: (1) Fit for Purpose, (2) Innovativeness, (3) Sustainability, (4) Scalability, and (5) Social Pitch.
At the end of the competition, the PADAYON Donation Matching App bagged the Sapphire Award or Best in Prototype. The team also received the Diamond Award or Community's Choice Award and was presented by Naoki Minamiguchi of the Japan-ASEAN Integration Fund.
The event is part of The Establishment of a Disaster Emergency Logistic System for ASEAN (DELSA) – Phase II: Satellite Warehouse project is supported by the Government of Japan through Japan-ASEAN Integration Fund (JAIF).