The ASEAN Issue 26 is released: Youth Speak We Act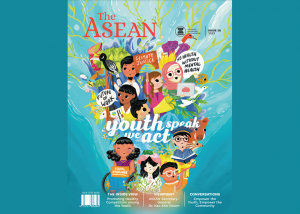 21 March 2023
-
In the Year of ASEAN Youth in 2022, various activities were launched to give the younger generation a more prominent voice in shaping policies and in building the ASEAN Community.
Explore the important role of the youth in ASEAN post-pandemic recovery efforts, growth, and development.
The Government of Japan through the Japan-ASEAN Integration Fund (JAIF) supports the ASEAN Volunteers: Community Based Disaster Risk Reduction and Preparedness to provide young ASEAN citizens with the opportunity to work with local partners and undertake grassroots initiatives in various ASEAN Member States (p.10). And through the project ASEAN Socio-Cultural Community (ASCC) Research & Development Platforms, the ASCC Department at the ASEAN Secretariat published a policy brief namely "Common Resilience Challenges in ASEAN and Potential Areas of Collaboration in Disaster Management". This policy brief recommends a focus on institutions, financing, and technology to improve disaster resilience (p.52).