The Journey of AHA Centre Executive (ACE) Programme Batch 6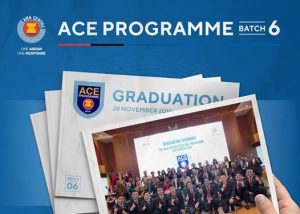 15 May 2020
-
On November 28, 2019, the journey of 18 AHA Centre Executive (ACE) Programme Batch 6 participants finally came to an end, recognised through a graduation ceremony at the AHA Centre's office in Jakarta. The training comprising 23 courses, visited 5 countries, and was implemented throughout 5 months.
Sridewanto Pinuji, one of alumnae wrote their journey and shared what are the lessons learned, remarks, and messages from the closing ceremony of the AHA Centre Executive Programme Batch 6.
The ACE Programme is training for future leaders of national disaster management offices (NDMOs) in ASEAN countries conducted by the AHA Centre. The Programme is supported by the Government of Japan through the Japan-ASEAN Integration Fund (JAIF).