The La Galigo Script Collection is now on the ASEAN Cultural Heritage Digital Archive (ACHDA) Website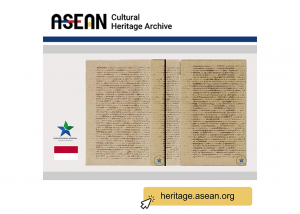 13 January 2021
-
The La Galigo Script Collection is a set of 14th century poetic texts telling the creation of the Bugis civilisation in South Sulawesi. Comprising 6,000 pages, it is considered to be the largest literary work, not just in Indonesia but also the world!
Originating from oral tradition La Galigo has all the elements of an epic tale: mythical beings, brave heroes, magic, and romance. It's no wonder that the story has been adapted into novels and even a world-class musical theatre production.
In 2011 the script was inscribed into UNESCO Memory of the World, registered as a document heritage. It is now safely stored in the archives of the National Library of the Republic of Indonesia (Perpustakaan Nasional).
The ASEAN Cultural Heritage Digital Archive (ACHDA) project is supported by the Government of Japan through the Japan-ASEAN Integration Fund (JAIF).
Other Whats New