Hoang Lien National Park, Viet Nam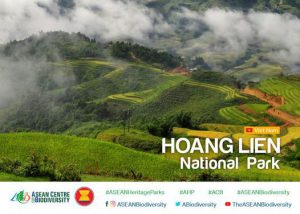 04 May 2021
-
Hoang Lien Sapa National Park covers 298 sq km in Viet Nam's mountainous province of Lao Cai. With the country's highest mountain, Fansipan, in its range, the park serves as a valuable biosphere for rare plant species Fujian cypress and Bac Xanh tree. Among endemic fauna in the park are the soc trau (squirrel, doi tai so (bat), and vuon den tuyen tay bac (gibbon). The birds of Fansipan include several Himalayan species not found elsewhere in Viet Nam.
The ASEAN Heritage Parks (AHP) Programme is a flagship initiative of the ASEAN. It recognises uniqueness, diversity, and outstanding values of national protected areas of ASEAN member states so that their importance as conservation areas could be appreciated regionally and globally. Presently, there are 49 AHPs throughout the ASEAN region. The ASEAN Centre for Biodiversity serves as the Secretariat of the AHP Programme, working with partners like the ASEAN Member States.
The Improving Management Effectiveness in the ASEAN Heritage Parks through Capacity Development and Biodiversity Information Management project is supported by the Government of Japan through Japan-ASEAN Integration Fund (JAIF).