The Mid-term Review Meeting of the Project on Support for Capacity Building in the GMS University Consortium (GMS-UC) and University Visits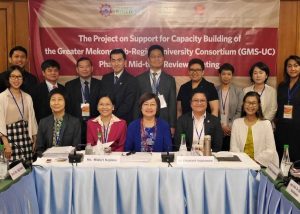 17 January 2019
-
On 17 January 2019, SEAMEO Regional Centre for Higher Education and Development (SEAMEO RIHED) successfully held the mid-term review meeting of the project "Support for Capacity Building of the Greater Mekong Subregion University Consortium (GMS-UC) (Phase 1)" at Wiang Inn Hotel, Chiang Rai, Thailand.
Chaired by Dr. Chanavit Sujatanond, Centre Director of SEAMEO RIHED, the meeting was actively attended by 17 delegates including the representatives from ASEAN Secretariat and SEAMEO Secretariat, the core experts for the project, and the national government representatives from Cambodia, Lao PDR, Thailand and Vietnam. It had been a crucial opportunity to review and reflect on the first year of the project's implementation, as well as to share the second year plan comprising another four capacity building activities and university visits which will be organized all throughout 2019.
The project is supported by the Government of Japan through the Japan-ASEAN Integration Fund (JAIF).
Other What's New