The Mission of Japan to ASEAN is now on Instagram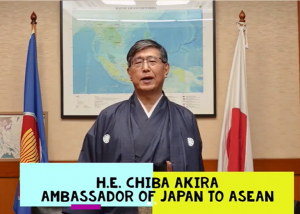 15 June 2022
-
On 15 June 2022, the Mission of Japan to ASEAN launched their official account on Instagram.
On their very first post, H.E. CHIBA Akira, Ambassador of Japan to ASEAN, through a video message, welcoming everyone to the official account of the Mission of Japan to ASEAN and thanking for the enthusiastic participation in the Japan-ASEAN 50th Year Anniversary Logo Design and Catchphrase contest. The contest has moved on to phase two, for judgement by the juries. Ambassador Chiba wishes everyone good luck and stay tune for more updates.
Follow @japanmissiontoasean on Instagram and join the journey of Japan-ASEAN relations, and to many activities the Mission have in store.