Training Workshop on Diagnostic of Begomovirus and Development of LAMP-PCR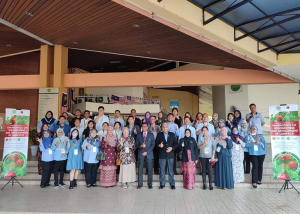 30 September 2022
-
The emerging and re-emerging diseases caused by viruses are perhaps the most devastating ones and require immediate attention and remedies due to the manner of disease transmission, spread and distribution across wide geographical locations. Begomoviruses are remarkably the most successful group of emerging viruses (Briddon et al. 2010; Rojas & Gilbertson 2008).
A two-week training workshop was implemented on 19-30 September 2022 in Serdang, Selangor, Malaysia trained 23 plant pathologists and entomologists from ten Southeast Asian countries including Brunei Darussalam, Cambodia, Indonesia, Lao PDR, Malaysia, Myanmar, the Philippines, Singapore, Thailand, and Vietam. Majority of the representatives are affiliated to the Plant Quarantine Centre and Plant Protection Division under their respective Departments of Agriculture, and some are from the academe.
The training workshop's main objective is to gain in-depth knowledge and awareness about the devastating effect of Begomoviruses on economically important crops, and to draw immediate and long-term solutions to manage such risks through capacity building development among plant quarantine and plant protection experts in the ASEAN region.
The training workshop is part of Taxonomic Capacity Building to Support Market Access for Agricultural Trade in the ASEAN Region – Phase 2 supported by the Government of Japan through the Japan-ASEAN Integration Fund (JAIF).