Update from the ASEAN Cultural Heritage Archive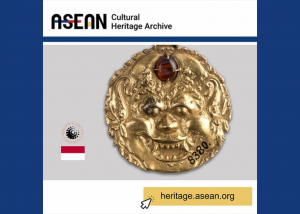 09 October 2021
-
The face of Hindu God Kala is depicted on this 13th century pendant made of gold and gemstones, part of the National Museum of Indonesia's collection of digitised cultural heritage items on the ACHDA website.
In its time, this piece of jewelry could only be worn by the aristocracy of Indonesia's Hindu-Buddhist kingdoms. It was used as an accessory in everyday clothing and had a sacred function in religious rituals, believed to be able to dispel negative energies.
See the Kala's Head Pendant here: https://heritage.asean.org/view/MNI/MNI_37
The ASEAN Cultural Heritage Digital Archive project is supported by the Government of Japan through the Japan-ASEAN Integration Fund (JAIF). The project was recently completed with the following notable achievements: launch and regular update of ACHDA online platform (https://heritage.asean.org/) and digitisation of a total of 160 cultural heritage items by NTT Data in the three pilot ASEAN Member States (Indonesia, Malaysia and Thailand). The Phase 2 project is ongoing to conduct digitisation in Cambodia and Myanmar.