Viet Nam are the Champion of Cyber SEA Game 2022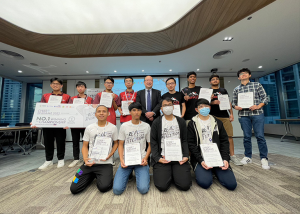 10 November 2022
-
Congratulations to the Viet Nam team for winning the championship of the Cyber SEA Game 2022 in Bangkok, Thailand. After a seven-hour competition, Mr. Le The Thang, Mr. Nguyen Quang Ba, Mr. Ky Hung Chien, and Mr. Nguyen Manh Dung who represented their nation as a team brought home the championship and the prize to compete in one of the most exciting cyber contests, SECCON 2022, in Tokyo, Japan in February next year.
Cyber SEA Game is an annual Capture the Flag cyber competition conducted by the ASEAN-Japan Cybersecurity Capacity Building Centre (AJCCBC) and Electronic Transactions Development Agency (ETDA) under the Ministry of Digital Economy and Society of Thailand (MDES) to be a platform for cyber enthusiasts from the ten ASEAN Member States under the age of 30 to compete among each other.
This year's competition was held on 10 November 2022 and was very special because this was the first time after two years, we were able to conduct the event face-to-face, which brought back physical engagement and discussion among the team members and interaction between different teams.
This successful event would not have been possible without the generous support from the Ministry of Internal Affairs and Communications of Japan (MIC). AJCCBC as the organiser of this event extend their gratitude to the ASEAN Secretariat (ASEC), Japan-ASEAN Integration Fund (JAIF), the Embassy of Japan in Thailand, and Mission of Japan to ASEAN for their valuable contributions. It is hoped that participants enjoyed the contest and gained valuable experience and knowledge that will be applicable to their future venture. It also hoped that this event helps shed light on the importance of cybersecurity and the young generation who will be the future of cybersecurity.