Viewpoint: KIYA Masahiko, Ambassador of Japan to ASEAN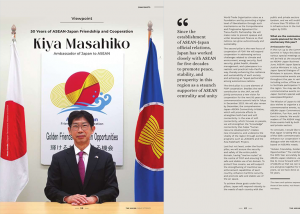 17 May 2023
-
Ambassador of Japan to ASEAN, H.E. KIYA Masahiko was interviewed by the ASEAN magazine on the occasion of the 50th Year of ASEAN-Japan Friendship and Cooperation and shared his insights on this significant partnership.
Ambassador said, since the establishment of ASEAN-Japan relations, Japan has worked closely with ASEAN for five decades to promote peace, stability, and prosperity in this region as a staunch supporter of ASEAN centrality and unity. Japan has also been working to aid ASEAN's integration efforts through the Japan-ASEAN Integration Fund (JAIF) established in 2006, he added.
Further, Ambassador Kiya shared his view on Japan's new plan for a Free and Open Indo-Pacific (FOIP) and how it compares to ASEAN's AOIP. He also promoted the commemorative events organized by the Mission of Japan to ASEAN.
Read full article on page 60-61.
Other Whats New