Webinar on Japan-ASEAN Cooperation based on the ASEAN Outlook on the Indo-Pacific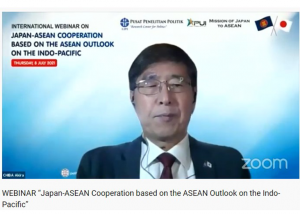 08 July 2021
-
The dynamics of the Indo-Pacific region have been rapidly changing, and ASEAN becomes more important than ever in the international arena. Japan has forged a robust relationship with ASEAN for almost half a century, and enhanced cooperation in various areas. As Japan's "Free and Open Indo-Pacific (FOIP)" considers ASEAN as its core, Japan attaches great importance to ASEAN Centrality and unity, and brings peace, stability and prosperity in the region by ensuring the rules-based international order.
Japan firmly believes that Japan-ASEAN cooperation holds a lot of potential to achieve that vision, and in this respect, the Japan-ASEAN Joint Statement on Cooperation on the "ASEAN Outlook on the Indo-Pacific (AOIP)" adopted last year is the cornerstone of our cooperation.
As has been repeatedly expressed, Japan fully supports AOIP, and in that Joint Statement, Japan and ASEAN reaffirms that FOIP and the AOIP share many fundamental principles. Taking the statement as a guideline, Japan pledges to work closely with ASEAN to propel the cooperation that will contribute to the principles stipulated in the AOIP.
Inviting two world-renowned scholars from Japan and ASEAN, this seminar provides its participants with an opportunity to identify key factors for the future development of the Japan-ASEAN cooperation, and discuss how Japan and ASEAN can work together to enhance peace and prosperity of the Indo-Pacific region.
Japan is committed to support Japan-ASEAN cooperation based on the AOIP through Japan-ASEAN Integration Fund (JAIF) JAIF-supported projects.