Young Government Officials of ASEAN Secretariat visits GRIPS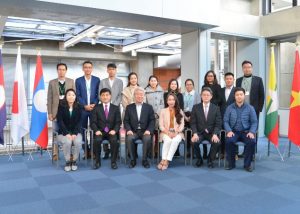 18 February 2020
-
On February 18, 12 ASEAN Secretariat officials visited GRIPS. 12 participants visited Japan as part of Attachment Officers Program supported by the Government of Japan through the Japan-ASEAN Integration Fund (JAIF) (dispatch of young government officials from Cambodia, Laos, Myanmar and Viet Nam to the ASEAN Secretariat for one year with the aim to improve the administrative ability of participants).
First, President Akihiko Tanaka gave a welcome speech, followed by Vice President, Mikiyama Masuyama's overview of the university. Later, 24 international students studying at the university's Master's Program Young Leaders Program (YLP) joined. YLP is a scholarship program of the Ministry of Education, Culture, Sports, Science and Technology (MEXT), in which promising young government officials who are expected to play an active role as future national leaders in Asian countries and Central European countries are gathered.
The students who are currently studying at GRIPS gave explanations about the significance and attractiveness of studying at YLP, and the delegates also listened very interestedly. There were also specific questions about procedures required for admission.
In the second half, the venue was moved to the dining room and a social gathering was held. It was a very good opportunity to see the active exchange of opinions between the visiting team, who are also young administrative officers, and YLP students.