Ambassador Chiba's Attendance to the ASEAN Cultural Heritage Digital Archive (ACHDA) Webinar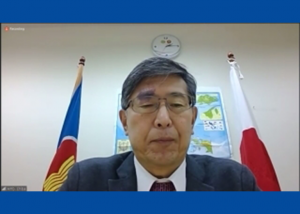 17 December 2021
-
On 26 November 2021, H.E. CHIBA Akira, Ambassador of Japan to ASEAN, attended the ASEAN Cultural Heritage Digital Archive (ACHDA) webinar(*) and delivered opening remarks. The webinar was attended by H.E. Ekkaphab Phantavong, Deputy Secretary General for ASEAN Socio-Cultural Community.
In his opening remarks, Ambassador Chiba stressed that digitisation of cultural heritages is of great significance as a measure to preserve cultural heritages from potential loss by disasters, such as earthquakes, fires and floods, and that also it enables people to appreciate them online despite the temporary close of museums, libraries and galleries upon the COVID-19 pandemic. He also expressed his pleasure that advanced Japanese technology has been used as well as his hope that people all over the world would be interested in ASEAN culture.
(*) The objective of the ASEAN Cultural Heritage Digital Archive (ACHDA) is to support the digitisation of cultural heritages and build of common platform of ASEAN 10 countries with Japanese technology. The Government of Japan supports the programme through Japan-ASEAN Integration Fund (JAIF).