AMEN National Consultants Met to Prepare for Project Kick Off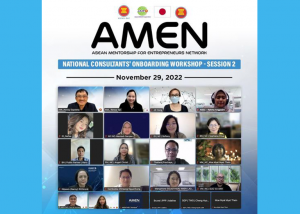 29 November 2022
-
The ASEAN Mentorship for Entrepreneurs Network (AMEN) Project assembled the national consultants who will work on its ASEAN region-wide program implementation earlier today to align on tasks and activities in time for project launch slated in January 2023.
All ten ASEAN Member-States (AMS) were represented by their National Consultants together with Public-Private Partnership (PPP) focal persons and AMEN Technical Working Group members. The session was led by AMEN Mentorship Institute (AMI) Consultant Virgilio Espeleta and AMEN Regional Consultant Renea Tan.
The AMEN Project Phase 2 is implemented by the ASEAN Business Advisory Council with the support of the Japan ASEAN Integration Fund (JAIF).