ASEAN, Japan Enhance Cooperation towards Post-pandemic Recovery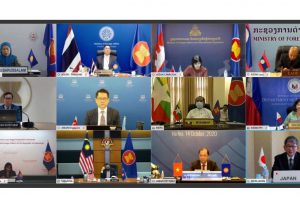 14 October 2020
-
Today, Senior Officials of ASEAN and Japan reaffirmed their commitment to further strengthen relations and advance mutually beneficial cooperation at the 35th ASEAN Japan-Forum. The virtual meeting noted the good progress made in ASEAN-Japan cooperation over the past year, including through the implementation of the current Implementation Plan to promote cooperation across a wide range of areas.
The Meeting highlighted the close cooperation between ASEAN and Japan in response to the Covid-19 Pandemic. ASEAN appreciated Japan's support towards the establishment of the ASEAN Centre for Public Health Emergencies and Emerging Diseases Centre and contribution to the Covid-19 ASEAN Response Fund, as well as Japan's support for other initiatives of ASEAN. Both sides agreed to enhance cooperation in the post-pandemic recovery, particularly in mitigating the economic impact of Covid-19.
The meeting stressed the commitment to maintain regional trade and investment, to ensure regional supply chain including through the implementation of the ASEAN-Japan Economic Resilience Action Plan, and work towards signing the Regional Comprehensive Economic Partnership agreement this year. Further, both sides agreed to strengthen cooperation in other areas such as digital technology, MSMEs development, climate change, disaster management, connectivity, and smart city.
ASEAN welcomed Japan's support for the ASEAN Outlook on Indo-Pacific (AOIP), and Japan's commitment to promote practical cooperation with ASEAN in the areas outlined in the AOIP.