ASEC Welcomes New Batch of IAI Attachment Programme Officers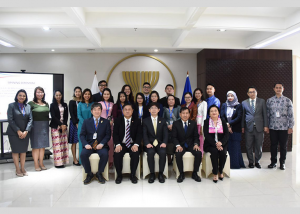 02 February 2023
-
Today, the ASEAN Secretariat (ASEC) welcomed junior officers from Cambodia, Lao PDR, Myanmar and Viet Nam (CLMV) who will take part in the Initiative for ASEAN Integration (IAI) Attachment Programme.
This programme is one of the activities of the IAI which assists CLMV countries to meet ASEAN regional commitments and ensure that the benefits of ASEAN integration are equally shared.
The officers will be attached to the relevant divisions of the ASEAN Political-Security Community, ASEAN Economic Community, and ASEAN Socio-Cultural Community for 12 months.
For more than 20 years, the programme has trained over 99 CLMV officers. In turn, these officers have promoted ASEAN integration and cooperation in their ministries and respective home countries. The programme is supported by the Japan-ASEAN Integration Fund (JAIF).
The officers were officially welcomed by Deputy Secretary-General for ASEAN Socio-Cultural Community Ekkaphab Phanthavong and Ambassador of the Japan Mission to ASEAN Kiya Masahiko.
Deputy Secretary-General Phanthavong thanked the Government of Japan and the JAIF Management Team (JMT) for their continued support towards the IAI Attachment Programme and for various other initiatives under the ambit of "Initiative for ASEAN Integration."
Japan has shown consistent support for the IAI Attachment Programme for more than 20 years. This year is also the 50th Year of ASEAN-Japan Friendship and Cooperation, a major milestone in ASEAN-Japan relations.