August 12th Marks the Annual Celebration of International Youth Day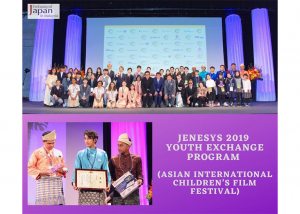 12 August 2021
-
On the occasion of International Youth Day, the Embassy of Japan in Malaysia introduced the JENESYS (Japan-East Asia Network of Exchange for Students and Youths) as one of the exchange programmes advanced by the Japanese government to promote international exchange among youth. If the COVID-19 situation gets better this year, JENESYS intends to invite approximately 1,700 youths from the Asia Pacific region, including over 100 from Malaysia to Japan.
As part of the Japan's Friendship Ties Programs JENESYS2019 "Inbound, Outbound and Follow Up Project" (JENESYS2019), more than 100 high school students from all over Asia visited Japan after nominated in the "13th Asian International Children's Film Festival". Three groups of students from Malaysian secondary school who have produced excellent films were nominated for the festival and visited Japan to present their work in-person in December 2019. A film entry called "Mirror" by students from the Sekolah Menengah Kebangsaan Panchor, Negeri Sembilan was selected as the Minister of Foreign Affairs Award 2019 winner.
It is hoped that the COVID-19 situation gets better soon and the JENESYS programme could resume as soon as possible. Meanwhile, JENESYS is holding exchange programs through online webinars. For those who are interested are invited to follow the Facebook page where the Embassy will share information when application is open.