Calling for High School Students of Singapore and Timor Leste for Japan-ASEAN Online Exchange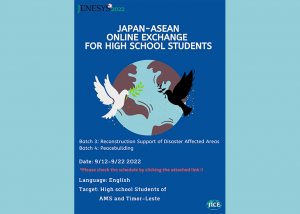 30 August 2022
-
For High School Students in Timor-Leste and Secondary and Tertiary students aged 15-20 years old in Singapore, Japan-ASEAN Online Exchange for High School Students is now open.
Batch 3: Reconstruction Support of Disaster-Affected Areas
Batch 4: Peacebuilding
The JENESYS 2022 eight-day online program will be implemented to promote mutual trust and understanding among the people of Japan and ASEAN Member States and Timor-Leste to build future friendship and cooperation. Participants will receive a completion certificate.
Date: Monday, 12 September 2022 – Thursday, 22 September 22
Interested participants may register by 7 September 2022 and check detailed schedule through this link: