Disaster Management and Emergency Response (AADMER Work Programme 2021-2025)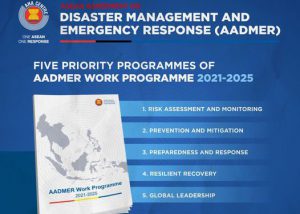 18 March 2021
-
The ASEAN Agreement on Disaster Management and Emergency Response (AADMER) is a legally binding regional agreement  that was signed in 2005 and entered into force on 24 December 2009 to guide the regional cooperation in the field of disaster management and response. The AHA Centre plays a significant role as the 'operational engine' of the AADMER.
Learn more on AADMER Work Programme 2021-2025 here.
Development of the AADMER Work Programme 2021-2025 is supported by the Government of Japan through Japan-ASEAN Integration Fund (JAIF).