International Exhibition, Humanitarian & Emergency Logistics Innovation Expo (HELIX) 2021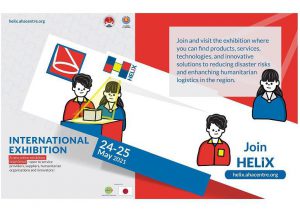 04 April 2021
-
Join and visit the International Exhibition on 24-25 May where you can find products, services, technologies, and innovative solutions to reducing disaster risks and enhancing humanitarian logistics in the region. The Humanitarian and Emergency Logistics Innovation Expo (HELIX) is an initiative of the AHA Centre to capture the latest advancements and innovation in humanitarian logistics and supply chain management. It aims to provide ASEAN's National Disaster Management Organisations a menu of solutions to address gaps in logistics capacities.
Visit https://helix.ahacentre.org for more info and registration.
The event is supported by Japan-ASEAN Integration Fund (JAIF) through The Establishment of a Disaster Emergency Logistic System for ASEAN (DELSA) – Phase II: Satellite Warehouse project which is currently underway.