Lao PDR Officials Complete Training on Project Proposal Writing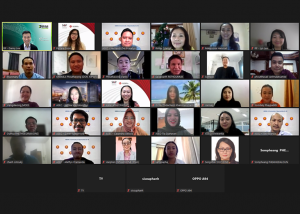 17 December 2021
-
Singapore's Ministry of Foreign Affairs, in collaboration with Lao PDR's Ministry of Foreign Affairs and supported by the Republic Polytechnic of Singapore and the ASEAN Secretariat (ASEC), concluded its second cycle of training on Project Proposal Writing for Lao PDR officials.
Hosted by the Laos-Singapore Cooperation Centre in Vientiane, the training took place online from 6-17 December 2021 with the attendance of 21 Lao PDR officials from six ministries, two provinces and the Bank of the Lao PDR.
The Republic Polytechnic of Singapore facilitated the first half of the training from December 6 to 10. Meanwhile ASEC, through its Programme Cooperation and Project Management Division, facilitated the second half from December 13 to 17, particularly to train Lao PDR's future project proponents on the development and management of ASEAN cooperation projects (ACPs), as well as the mechanism to tap into available resources.
ASEC invited the Japan-ASEAN Integration Fund Management Team to share their experience in project proposal development and monitoring and evaluation, from an ASEAN partner's perspective. Meanwhile, ASEC's Finance and Budget Division shared project budget formulation and project fund disbursements, as well as reporting.