Partnership Forum the AHA Centre 10th Anniversary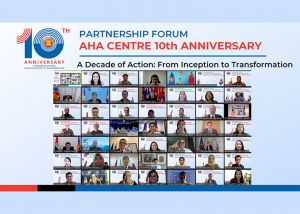 03 December 2021
-
 The ASEAN Coordinating Centre for Humanitarian Assistance on Disaster Management (AHA Centre) celebrated its 10th Anniversary with a Partnership Forum themed "A Decade of Action: From Inception to Transformation" on 26 November 2021. A virtual exhibit entitled "AHA Centre Work Plan 2025 Exhibition" was held where participants had the choice to join six different breakout sessions.
Since its establishment, the Government of Japan through Japan-ASEAN Integration Fund has been supporting the AHA Centre through the following initiatives:
ASEAN-ERAT Transformation Project – Phase I
The Establishment of a Disaster Emergency Logistic System for ASEAN (DELSA) – Phase II: Satellite Warehouse and Phase III
AHA Centre Executive (ACE) Programme 2018-2020
Strengthening ASEAN's Collective Response Capacity through the Enhancement of the Capacity Building of the Regional ASEAN Emergency Response and Assessment Team (ASEAN-ERAT) (2020 – 2022)
Establishment of an Integrated Information and Communication Technology (ICT) System to Strengthen the Operation of the AHA Centre
Remarks from H.E. Dato Lim Jock Hoi, Secretary-General of ASEAN can be accessed here while greetings from Dialogue and Development Partners, including H.E. Chiba Akira, the Ambassador for Mission of Japan to ASEAN is available here.